Waggers has gone to the DOGS!!

We interrupt your normally scheduled broadcast to bring you this urgent message…

Please do NOT adjust your communication device, we repeat:

Waggers has gone to the DOGS!!

Sure they are cute, fluffy, friendly and FULL of personality but ENOUGH already!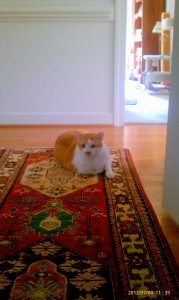 <
I want to tell you how Waggers Pet Sitting helped our family, so now that I have your attention here it goes…(oh by the way, I ran across this as an email my owner wrote while I was playing with the keyboard – you have to promise not to tell her;)

Hi Allison I can't thank you enough. The boys were so relaxed when we got home. That was just so great to see!! You did a wonderful job and we so appreciate it.

I do have 2 questions! First you didn't happen to find a frayed shoestring anywhere in the house did you? I am hoping you did and threw it away! We had 2 of them in our closet that the boys play with but now there is only one. We were concerned that Tigger might have eaten it as he has tried to do that in the past.

Second, what was your technique for giving Tig his meds? Was it the same as David showed you when you were over? We were just wondering if you might have some other trick that we could use. We are always trying to learn from the experts!!!!

Hope you had a good week yourself! We are getting ready for the big weekend coming up!! Should be fun!!

We will definitely use your services the next time we go out of town!!

Take care,
Roxanne

I don't have too much more to say, I am a cat after all – Just be sure your owners call Waggers if they ever plan to leave town!
They are not only GREAT but very affordable, –> Cat & Small Animal Visits: $14.00 (2 animals. Add $1.00 per visit for each additional animal over 2.)

~ Tigger

P.S. If you also happen to have some of those attention hogging dogs they have pet sitting options for them as well.