Custom Painted Pet Portraits by Amy's Creative Corner

Searching for the perfect Christmas gift for your pet loving friend? Not sure what to give the pet lover on your list? There's still time to give someone the gift of having their pet's portrait done, it's unique and fun at the same time!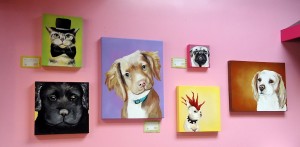 Amy's Creative Corner was recently featured in a Cary Magazine Feature
during a promotion of local business in Cary, North Carolina.

Here at Waggers Professional Pet Sitting we recently had the opportunity to meet Amy Yeager and speak with her about a cross marketing promotion that our Waggers marketing manager was planning.
Quickly things became too busy to plan our client event, but then it dawned on me, I can easily promote Amy's Creative Corner right here on the Waggers website. As for the event, we plan to hold it in the future. Below is a description of the custom pet gifts you can contact Amy Yeager for;
"Here's an explanation for you about Amy's Creative Corner…I specialize in custom painted pet portraits and handmade gifts including pendant necklaces and stationery. My paintings are made with love and last a lifetime…not to sound cheezy. Ha! But really people can feel confident in giving gifts that are meaningful and unique. I love hearing stories from customers about their pets and seeing how happy they are with my products. I am a local Cary artist, but I can ship my wares anywhere
in the world. Does this help a little?" -Amy Yeager
Why YES Ms. Amy Yeager, it helps ALOT!!

These will help you even more – watch the videos below to learn how Amy's Creative Corner began and then view some of her recent work!

How Amy's Creative Corner began…


One more question for you Ms. Amy, does my pet need to have a sitting to be painted?

"I work off of photos that can be emailed to me. If they don't have it digitally, (if it is a pet that passed away and they don't have any digital files, etc.) then they can mail actual photos too. My Etsy shop is where people can see all the different sizes and prices of portraits, handmade gifts and other misc. art I do. This is also where they can make their purchases as well. Let me know any other questions you may have. Thanks!!" -Amy Yeager
Some of Amy Yeager's work..

Amy's Creative Pet Portraits also has gift certificates you can purchase and give as a gift! Unbelieveably the gift cards themselves are hand painted! Let them pick out exactly that they want this holiday season!

You can also see Amy Yeager's work locally in several places where it is displayed such as, Woof Gang Bakery in North Hills. Woof Gang Bakery has several pieces available for consignment, or for viewing before placing an order for your own custom pet portrait.

If you are headed to downtown Raleigh anytime soon, feel free to drop by the recently opened Kindred on Wilmington St in Raleigh. Kindred is a boutique geared toward helping local artisans grow their business, make sure you have time on your hands if you go, they have over 20 artisans on display.

Amy's Creative Corner also has work on display and a mural at All Dogs Together in Cary, and other murals at the Mosaic Church in Cary.

You can visit Amy's Creative Corner and get started on completing your shopping list right here!

We hope to hear from you soon!
Waggedly Yours,
Allison Smith
919-616-5242