We pride ourselves on the work we do and each and every one of us is a bonafide pet-lover! Not only that, all of our sitters are insured and carefully screened before we will let them into your home to care for your pets. We know that once you meet us you will feel completely comfortable leaving your amazing little Waggers in our loving care.
Allison Smith | Deanna Foley | Shani Schofield | Kayte Price | Susan Kiama | Tamara Bean | Mikayla Bower | Kathryn Sullivan | Jennifer Jordan | Hannah Campbell | Tania Faulhaber | Jessie Woodall | Melissa Hatt | Kevin Do | Susan Day | Michael Levesque | Jolanda Malone
My name is Allison Smith and I have been an animal owner for more than 30 years. I'm compassionate and nurturing by nature and am comfortable caring for pets as young as puppies to senior pets. I'm even trained to give meds both orally and via injections.
I have worked with a wide array of species and breeds of animals and have personally owned dogs, ducks, frogs, birds, fish, and even rats! My husband is a K-9 handler with the Wake County Sheriff's Department.
I started Waggers Pet Sitting to provide a local alternative to kenneling pets in Cary, Raleigh, Holly Springs, Fuquay-Varina, Morrisville, and Raleigh so those pets can enjoy the freedoms of home in a less stressful environment. I think the reason people continue to use Waggers is that we are organized and punctual, which in my opinion is a great attribute when dealing with numerous clients' needs simultaneously.
I hope to meet you and your pet soon!
I live in Cary with my husband and three children. I have always had a dog as a family member – from a toy poodle to a St. Bernard. We currently have an Old English Sheepdog named Molly. Molly loves having dogs visit and she is a great hostess – she is willing to share her food, her toys, and the couch. My love of animals and my willingness to take care of my neighbors' pets led to a great job with Waggers. I enjoy watching dogs and cats and learning their personalities. I am available for Daily Dog Walks, In-Home Pet Sitting, and Private Dog Boarding.
Shani Schofield
Pet Sitter
I arrived in NC from London, England in 2014 with my family for a new work placement for my husband. We brought over with us our two rescue cats Buster and Pickle. Over the years I have given a home to 11 rescue cats, several rabbits, and other small rodents. In particular, I have cared for elderly and sick animals including ones that required regular subcutaneous injections as well as various medications and other intensive nursing needs. In particular, our rabbit Salt (his sister was called Pepper) was very sickly and we had an intense 4-year battle to keep him going due to congenital problems. I trained him to use the litter tray (very easy to do) and he had the run of my upstairs area, he was hilarious and an absolute joy.
I worked for 5 years as a volunteer for a UK animal rescue sanctuary in a number of capacities including newsletter editor, home checker for dogs, cats, and small furries going to potential new homes, and some fundraising. I also volunteered as a parent helper for the Girl Guiding Organization whilst my girls were younger, helping at the weekly Brownies meetings and I was the cook at one of the weekend away camps.
Immediately prior to moving here, I volunteered as a Peer Support Coordinator at a drop-in center for a UK mental health charity. I ran the day center two days a week and organized as well as cooked for several Christmas parties and summer cookouts alongside my husband.
I have a daughter in high school and wanted a rewarding job that would fit around my need to be there for my family as well as combining my love for working with animals. I am happy to care for any pet except spiders, I cannot cope with spiders eek! I joined Waggers in June 2015 and can honestly say I am enjoying the role as petsitter so much and every single pet I sit for becomes a favorite, I now have a lot of favorites. Waggers is an amazingly dedicated and caring company to work for, I am having the time of my life caring for all my clients and look forward to hopefully meeting many new ones too.
My husband and I relocated here from the Midwest, 5 acres, a horse, llamas, sheep, and the occasional goat. We did bring our two dogs with us and have always had animals in the house.
We have our 15-year-old cattle dog and a 12-year-old beagle/lab rescue who is very vocal. Having so many animals has taught me much about observation and communication. And the move here taught me even more about when a routine is disrupted and how to overcome it.
I am a graphic designer and jewelry maker, now all part-time. I added pet-sitting as I enjoy animal caretaking and feel I can offer your pet a secure relationship while you are away.
I am available for Daily Dog Walks and In-Home Pet Sitting.
My name is Susan Kiama and I live in Cary, NC with my husband, stepson, and our two lilac colorpoint siamese cats Mr. Dinks and SiverBelle. I graduated from UNC-Charlotte with a BA in Psychology in 1988. I spent 20+ years caring for people with mental illness and/or intellectual disabilities. I still do consulting. I realized that I would like to be out there caring for pets instead. Throughout my life, I always had animals. I had a quarter horse for 8 years. I have always had cats or dogs and even a rabbit. I love animals and a close connection to animals has always been a part of who I am and could not imagine my life without my furry companions.   I am very reliable and dependable. I would love to assist you in any way I can with your pets and would treat them as if they were my own.
Tamara lives in northeast Cary. She is a graduate of West Virginia University with a B.S. in Forest Resources Management. As a young girl, Tamara raised cocker spaniels and has owned dogs her entire life. She has worked for Waggers Pet Sitting for 8 years and is the proud owner of a one-year-old miniature schnauzer named Ziggy. Tamara finds that singing to your pet during a visit and frequently mentioning their name makes them feel comfortable and loved. Animals love Tamara's passions that include, gardening (digging), cooking (meat), and the outdoors (walks).
Hi my name is Mikayla Bower. I have had pets my whole life, a home just isn't complete without one. I have lived in North Carolina for twelve years. Before I lived in Connecticut and I was born in California. I have always loved working with animals and have lots of experience. I have only been working at Waggers for a few months, but I have years of watching animals under my belt. When I saw this job opportunity I jumped on the chance. Working with Waggers allows me to work doing something I love and gives me enough time to also work on writing my first book.
Kathryn Sullivan
Pet Sitter
Hi, my name is Kathryn! I am originally from Wilmington NC but I have moved around a bit living in Nashville, Memphis, and finally moving to Garner. I have grown up caring for animals most of my life. Currently, I have one "child" my dog Coco, she is a dachshund and is 12 years old. My passion for animal sitting started in Memphis, while I was getting my Bachelor's Degree in Legal Studies from the University of Memphis. While in college I started, pet sit for other people's animals in my spare time. That's when I realized that I had a passion for taking care of animals. I have 6 years of pet sitting experience and have enjoyed every minute of it. I have learned in that time that building a relationship with animals is one of the most important things a person can do with them. So, while you're away you can rest assured that your pet is in the best of care! I can't wait to meet you and your pet!
Jennifer Jordan
Pet Sitter
Does your dog like to cuddle, take walks in the park and explore nature, nap, fetch things, learn new tricks, have staring contests, get down & dirty in the mud, splash in the water, take bubble baths, roll around in the leaves, window shop, or yoga? Do they like to talk a lot or maybe just prefer to listen? Does your dog parkour? Maybe he'll teach me!
Hi, I'm Jennifer at your service. No, I don't want to date your dog, but I would love nothing more than to help you take care of them and give them the fullest and happiest life their heart can handle when you can't be there. I have spent the better part of 35+ years being filled with a thirst for knowledge, love, and compassion for animals of all species, shapes, and sizes that surpasses any other. I studied Zoology at CSUChico with an eventual focus on Primatology.
My own personal lifetime line-up of ani-babies includes 3 horses, 1 rooster, 1 hen, 1 Mallard duck, 1 rabbit, 1 frog, 2 guinea pigs, 3 water turtles, 7 cats, and 9 dogs ranging from 8 pounds-120 pounds, male and female. Currently, my son and I have a 10 year old boxer named Tank who has been the furbaby love of my life from the age of 8 weeks. We found out in March of this year he has a brain tumor that is quickly taking its toll. That being said, I have from Tank as well as several others, acquired the skills necessary in administering many different medications whether pill or injection form.
I have a flexible schedule, a great sense of humor, excel in pet talk, and am driven solely by my love for animals to provide nothing short of patience, compassion, security, and peace of mind to you and your pets. Book a Meet & Greet today so you can stop worrying about Fluffy, you won't regret it!
Hannah Campbell
Pet Sitter
My name is Hannah Campbell, and I have lived in North Carolina for over fifteen years. I have always been an animal lover for as long as I can remember. Over the years I have owned different pets such as parakeets, cockatiels, dogs, cats, and chickens. I have pet sit for many friends and family in the area and am very fortunate to do so as it is a rewarding experience.
I am currently working on my associate's degree and hope to transfer to a university to earn my degree in Accounting. Being a full-time student can be stressful, but interacting with pets is very therapeutic. I love meeting new animals. When I am not studying or working, I like to photograph animals and nature. I also enjoy painting.
I am very organized, responsible, and loving. I also have a flexible schedule for all your pet sitting needs! I would love the opportunity to care for your pets.
I look forward to meeting you and your pets soon!
Tania Faulhaber
Pet Sitter
I am a proud mom to two humans, two dogs, a cat, and a horse. I have been in Apex for over 20 years and am very happy to live close to two grand-dogs, who I pet-sit as often as possible.
I firmly believe that pets are family, and they ought to be treated with care. I am responsible, flexible, and willing to go the extra mile to make your pets feel at ease while you're away and I can't wait to meet your furry family.
Hi, my name is Jessie! I am originally from New Bern, NC. I moved to Cary after I graduated college. I graduated from the Veterinary Medical Technology Program at Central Carolina Community College in May 2018, where I earned my Associate's in Applied Science. I have been a Veterinary Technician for the last 2 years. I grew up with dogs and cats. I currently have 3 dogs. Indi (4yr Pit mix), Grizzly (2yr Miniature Dachshund), and Mako (2yr Great Dane). I also have 1 cat, Phoenix (2yr Domestic Shorthair). I like to spend my free time playing with my dogs, going to breweries, and hanging out with friends. I have had a love for animals ever since I could remember. My background in veterinary medicine has allowed me to gain the knowledge and experience to work with animals of different temperaments, health, and age. I am comfortable administering oral, topical, intramuscular, and subcutaneous medications. I am also comfortable performing blood glucose tests and nail trims. I have had many pet sitting jobs in the past and have always treated each animal as my own and gone above and beyond to provide the best care possible. I am responsible, flexible, and trustworthy. I can't wait to meet you and your fur-babies.
I live in Fuquay Varina with my husband, three children, our Goldendoodle Bolt, many fish, and our two bearded dragons, Rex and Lizzy. I have had a dog in my house since before I can remember. They add so much warmth and love to a home, I just couldn't imagine not having one. My husband is an RN and works long hours so I was looking for a rewarding job that would allow me to still be there for my family as well, which led me to Waggers.
I enjoy playing with and taking care of dogs and cats as well as other types of pets. I have experience pet sitting for many different breeds of dogs, from puppies to older dogs with
health issues. I also have experience caring for bunnies and cats. I truly want to make sure your pet is taken care of while you are away because I know it can be stressful for them. I am available for daily dog walks and in-home pet sitting. I can't wait to meet you and your pets!
Well hey there! My name is Kevin. What am I like? Well, if I could sum up a portion of my personality, it would go something like this. I'm energetic, active, spontaneous, and funny. I love all things that life has to offer: Friends, family, knowledge, the great outdoors, and tacos. I just recently moved here from Memphis, Tennessee, and currently attending school for Business Management with a concentration in Marketing. I'm very outgoing and love exploring.
By day, I am a Call Center Project Specialist for a Brain and Spine company. By night (or early morning), I am your average movie-loving, pet-friendly, gym going, Costco sampler eatin', and a bit of a workaholic kind of guy. I have a passion for animals of all kinds and would love for you to give me the chance to interact with them. One of the most heartfelt things in this world that I find interesting is how animals and humans can have such a wonderful bond. They are more than just pets. They are roommates, your child, a friend, and even considered a member of your family. They are the extension of your love. Overall, I enjoy taking care of all kinds of animals.
So that's me. As silly as I seem to be, I truly am responsible, driven, and have a lot of compassion for people and animals. I'm dedicated when it comes to working and always try to see the positives versus the negatives out of life. If you allow me to come work for you, I will promise you good results. Thanks for reading me!
My name is Susan Day and I live in Holly Springs, NC, just outside Fuquay Varina, with my husband. I'm originally from Ohio, but have also lived in New York and Pennsylvania. I moved to Charlotte, NC in 1995 to take a job as a Database Engineer with Bank of America. I later moved to Cary in 2003 when I married my husband. Then in 2008 we bought our home in Holly Springs.
My love for animals goes back to my childhood. Growing up we had several Sheltie collies and a couple cats. Then in my adult life I've had a Siberian husky, 2 Sheltie collies, a miniature poodle, a dwarf rabbit, a parrot, a conure, 2 Pomeranians, and now a small rescue dog. I am also currently volunteering at Corral Riding as a feeder and groomer of their 11 rescue horses, and have been doing this for the past 4 years.
Every animal has its own personality and I love interacting with the cuties and taking care of them.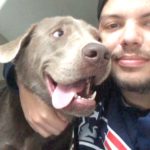 Michael Levesque
Pet Sitter
Hello, my name is Michael Levesque. I'm originally from Massachusetts and moved to NC 14 years ago. I've had animals my whole life and I love them. I currently live in Fuquay, NC with my dog bear. Waggers is such a great opportunity for me especially someone who loves animals and loves to take care of them. I look forward to taking care of your animals! 
Hello, my name is Jolanda Malone and I am originally from the Bronx, New York, and moved to North Carolina in 2018. Since I was a little girl I would help stray animals find forever homes. I was able to do this with the help of my abuela.  Since then I have always played a big part in the community by helping people and animals. I have 10 years of experience working with cats and dogs in animal shelters, hospitals, fostering, TNR, pet daycare, dog walking, and pet sitting. 
In the past, I have worked as a dog walker, pet sitter, bather, fundraiser, kennel technician, and I provided TNR services in my area and educated the community on what they can do to help limit the number of strays outside. I worked as an Animal Care Officer and Adoption Coordinator, where I would help intake animals at the shelter, provide vaccinations, and help the cats/dogs find forever homes. I realized my passion was not only for helping animals but also for bringing the community together so we all can make a difference. In 2021, I started a Non-Profit Organization that builds relationships with low-income families with pets by providing resources and support. 
I have cats of my own and love them to infinity and beyond. As me being a paw parent I know how it feels going on vacation and wondering what they are up to and making sure they are alright.  Being a Pet Sitter has always felt like I was the auntie coming to stay with the kids while their mom and dad went on vacation. Seeing their face light up, tails wag, purr, or just that brush up on my leg for some much-needed rubs is always a great feeling.  A day with fur babies is a day living in my passion.